$0 migration and "BC to Treepl" app final release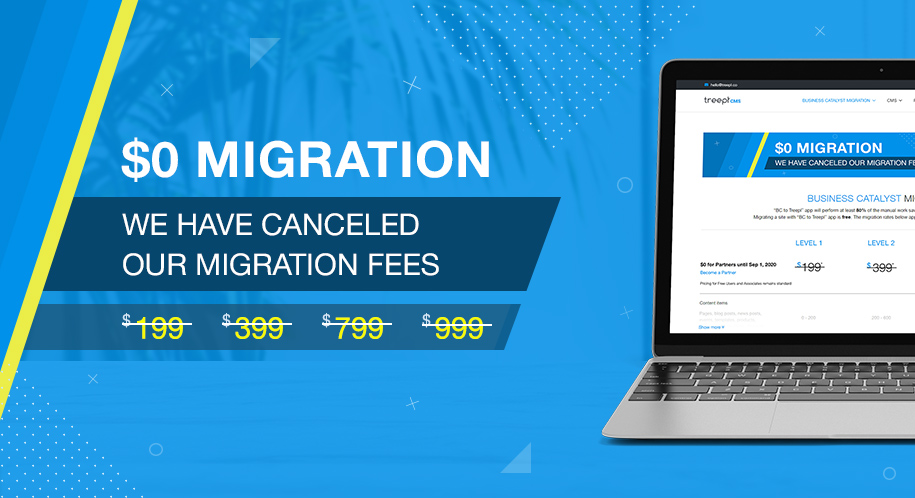 The best Business Catalyst migration experience is now $0!
Starting today, we have canceled the "BC to Treepl" app migration fees ($199, $399, $799, $999) for all existing and newly signed up Treepl Partners.
This offer is applicable to all migrated sites that get activated (made live on Treepl) before September 1, 2020.
You can sign up as Partner or upgrade your existing account to Partner level
here
.
"BC to Treepl" App: Final Version
After 15 months of heavy development, we are now excited to release our final version of the "BC to Treepl" app.
Version 9.1.1 (yes, nine-one-one) is
now available
bringing
automated migration+conversion of eCommerce
, including:
- Products (list+detail+list backup layouts)
- Catalogs (list+detail layouts)
- eCommerce system pages (shopping cart, checkout page, checkout thank you page)
- Gift vouchers
- Discount codes
- Shipping options
- Taxes
+ Modules:
- module_catalogue
- module_cataloguelistdump
- module_catalogueselect
- module_product
- module_productfeaturelist
- module_productlistdump
- module_shoppingcartsummary
Frequently Asked Questions:
Q:
What about sites that were migrated previously, are those free as well?
A:
Yes. If you activate those sites before September 1st, you won't be charged for migration. Starting September 1, 2020 the migration rates will get enabled.
Q:
Should I activate my migrated site (make it live) immediately?
A:
No. In order to waive the migration fees, you need to make the site live before September 1st, 2020.
Q:
Is $0 migration for everyone?
A:
"BC to Treepl" migration fees are $0 for all Treepl Partners (including those on the installment plan).
Pricing for Free Users and Associates remains standard ($199, $399, $599, $999).
Q:
Do you charge for manual fixes?
A:
Yes. We estimate those by a special discounted rate ($20/hr) available only for migration projects.
Estimation of manual fixes and post-migration upgrades (making the site responsive and cross-browser, fixing existing bugs, SEO optimization, etc.) is free.
Q:
Does a $0 offer apply to custom/partial migrations?
A:
Yes. You can migrate parts of the site (CRM records only, for example) with the "BC to Treepl" app at the same conditions as the entire site.
Q:
May I still migrate to a trial site for free using the "BC to Treepl" app if I am not a Partner?
A:
Yes. If you are a free user or an Associate, you can still migrate your BC sites to Treepl with help of the "BC to Treepl" for free. Migration rates will only apply if you decide to go live with the migrated site while not having a Partner account.
Q:
Will I get a refund for previously paid migrations?
A:
Refunds are only available for migrations paid in May 2020.
Q:
Will you continue supporting the "BC to Treepl" app development after its final version being delivered?
A:
Yes, we will continue supporting the app based on the feedback you submit on Treepl Forum and/or send us directly.
The "final version" means we have accomplished our initial masterplan presented on
Business Catalyst Migration page
.
If you have any questions, please post them in the comments or contact us at
support@treepl.co
Happy migrations!