ADVANCED

BUSINESS CATALYST EXPORT

Unlimited number of exports for only $19.99 per site!
Export selected parts or entire BC site into a single archive with both .json and .xlsx files included.
What's
Exported
Content

Pages, Page Templates, Content Holders, Menus, Web Forms, File System, Secure Zones, URL Redirects, System Pages, System E-mails

Web Apps

Settings, Properties, Layouts and Web App Items

Modules

Blogs, Events, Photo Galleries, News, Media Downloads, FAQs, Ad Rotators

CRM

Customers, Cases

E-Commerce

Products, Catalogs, Discount Codes, Gift Vouchers, Tax Codes, Shipping Options

Site Settings

Categories, Workflows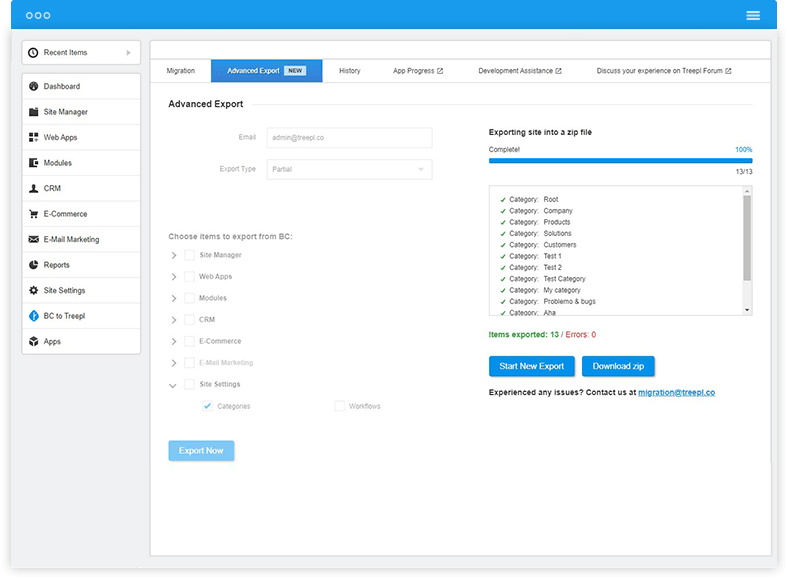 Try it now!
It`s easy
Export your Business Catalyst site in 3 simple steps:
Free app Install
Install "BC to Treepl" app onto your Business Catalyst website. The app will instantly appear in your BC's admin.
Export the site
Select partial or entire site export and click "Export Now".
Download
Sumbit a one-time fee of $19.99 via PayPal to download the archive with exported content. All further exports will be free of charge for every admin user!
install "BC to Treepl" App
Upon click you will be asked to login into your BC site's admin to install the app.
Works best in Chrome browser. Current version: